3. August 2022
Many industrial processes require precise pressure measurements for monitoring. Mostly, the piezoresistive effect is used, which is particularly pronounced with semiconductor materials such as silicon.
For high pressure applications above 10 MPa, mainly thin film technology on steel substrates is used for the sensing element. Sensors with a flush media connection can only be realized with this technology at great expense. In the newly started project, a technology for a sensor with flush media connection and strict separation from the electrical side is being developed. The basis is formed by transverse strain insensitive Si strain gages, which are designed as Wheatstone full bridges. This is joined to the side facing away from the medium by means of glass frit on a membrane or bending plate made of steel that is more resistant to chemicals. The technology allows sensors to be built up to 300 MPa.
In contrast to conventional thin-film pressure sensors, the media-contacting steel plate is front-flush and free of topologies and undercuts.
Due to the flush media contact, this sensor is particularly suitable for the food industry, pharmaceutical industry and chemical industry, whose hygiene regulations require elaborate and regular cleaning. An oil seal as with silicon-based pressure sensors to obtain a flush media contact is not necessary here.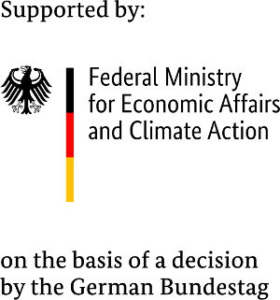 The research and development work in the project "High pressure sensor with flush media connection" (DS300MPa) was funded by the German Federal Ministry of Economic Affairs and Climate Action.
Funding code: 49MF220019