17. August 2022
Solutions for high-performance IR emitters with extremely high emissivity currently require complex and costly special processes. According to the current state of the art, emission-improving coatings are subsequently deposited on the emitters and functionalized.
In the "TeSIS" project, a novel, significantly simplified process chain for IR emitters with blackbody properties was developed. Instead of a subsequent functionalization, the idea of depositing the heating resistor element on a textured surface was implemented. The carrier was removed during the process – leaving behind a 3D shaped membrane with the heating resistor with significantly improved emission properties.
The resulting thermal emitters then already have an advantageous texture WITHOUT a subsequent coating, which has a positive effect on emissivity, efficiency and manufacturing costs. An international patent has been successfully secured for this promising idea under PCT/EP2018/083263.
The main advantage is a significant cost reduction in the fabrication of thermal emitting MEMS IR emitters. By eliminating the need for subsequent functionalized and patterned coating, costs can be reduced by about 50% compared to HP emitters.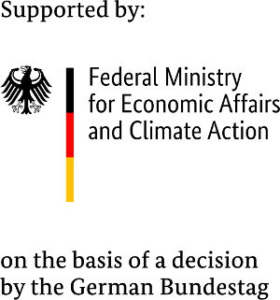 The research and development work in the project "Textured Blackbody MEMS IR Emitter" (TESIS) was funded by the German Federal Ministry for Economic Affairs and Climate Action.
Funding code: 49MF190034