4. November 2022
In the successfully completed DefEin project, doping technologies were developed that enable high energy resolution of radiation sensors consisting of silicon by keeping the highly doped regions on the entrance side of the radiation to be detected as flat as possible.
For many sensors, it is critical that the energy loss from the incoming radiation in the non-sensitive zones near the surface of the sensor (the "dead zone") be as low as possible in order to achieve the highest possible sensitivity. These non-sensitive regions include the highly doped silicon regions at the surface of the sensor. It is therefore necessary to limit these highly doped areas to as small a region as possible, i.e. to keep them as flat as possible. At the same time, however, sufficient conductivity (expressed by sheet resistance) must be maintained.
Previous doping techniques were only slightly adapted to these special requirements, because an activation and annealing step required by the doping leads to a smearing of the dopants and thus to a spatial expansion of the dead zone.
Therefore, very flat doping profiles with sufficiently low sheet resistivities were developed at the CiS Research Institute. The method consists of plasma immersion ion implantation (PIII) and an adapted activation step via an RTA process ("rapid thermal annealing"). This enables sensors that have significantly higher sensitivity or improved lower threshold energy resolution to UV radiation, low-energy particles such as alpha and beta radiation, and ion radiation in so-called delta E detectors. The following industries can benefit from the development: Metrology (for investigation methods based on UV light or low-energy electrons), environmental metrology (for precise investigation of alpha and beta emitters), medical technology (for detection of UV radiation in combating germs using UV radiation), and high-energy physics (for isotope-accurate detection in heavy ion research).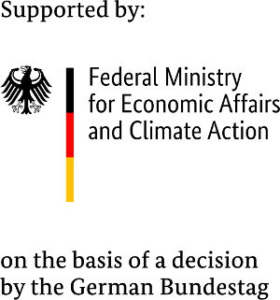 The research and development work in the project "Si detectors with flat entrance window" (DefEin) was funded by the German Federal Ministry of Economic Affairs and Climate Action.
Funding code: 49MF190072