9. August 2023
The aim of the project is to implement a retrofit kit in the form of a sensitive sleeve with integrated pressure sensor system for non-invasive pressure measurement in process pipes. For this purpose, a sensitive pipe sleeve with integrated pressure sensor system based on Si-DMS is being developed. Due to the direct coupling, the exact strain changes of the process tube can be detected.
The sensor system to be developed for this purpose should have the following properties:
Non-invasive pressure measurement in pipes or pressure vessels without media contact
Subsequent installation
Easy installation
Measuring accuracy approx. 1% – 3% of measuring range (4 to 300 bar)
Integrated temperature measurement
Possibility for temperature compensation of the raw signal
Strain-based non-invasive approaches for measuring pressure in piping systems are arousing great interest in the industrial plant sector due to their convenience and non-destructive assembly. Here, applications are planned for process pipes for the acquisition, digitization, storage, evaluation of condition variables. This results in statements on material changes, wear mechanisms, maintenance, energy consumption under operating conditions or reactions to external influencing factors.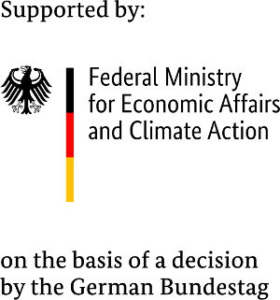 The research and development work described is funded by the German Federal Ministry of Economic Affairs and Climate Action (BMWK) in the research project "Retrofit kit for non-invasive pressure measurement (NivLer)".
Funding code: 49MF220174