23. August 2023
Non-dispersive infrared spectroscopy (NDIR) is preferably used for detection and concentration monitoring of selected gases. Intensive research is being conducted to reduce costs. New components and simplified manufacturing processes can contribute to this.
The aim of the CNT-IR-TP research project at the CiS Research Institute is to develop thermopiles with absorbers based on a carbon nanotube layer.
In as few process steps as possible, the growth of the carbon nanotubes is integrated into the production of the thermopiles and should lead to a significant increase of the absorption in the long-wave spectral range. The thinnest possible layer of carbon nanotubes in the center of the membrane should have no negative effects on other component properties.
Furthermore, by structuring the absorber layer, the thermal conductivity in the lateral plane should not increase significantly and only the hot junctions should experience a significant temperature increase. This can be achieved by structuring the catalyst required for growth.
The project should help to reduce manufacturing costs, achieve higher signal yields and enable new measurement methods.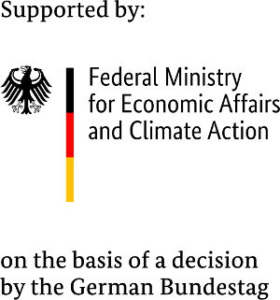 The research and development work in the project "Thermopiles with carbon nanotube absorbers (CNT-IR-TP)" is funded by the German Federal Ministry of Economic Affairs and Climate Action.
Funding code: 49MF220179