21. July 2022
Piezoresistive pressure sensors consist of a silicon-based Wheatstone bridge. The integrated piezoresistive measuring resistors are integrated in a bending plate, which selectively and sensitively change their mechanical stress state depending on the pressure. To increase sensitivity and compensate for temperature dependence, the measuring resistors are arranged as a measuring bridge.
High-precision pressure sensors require complex calibration, mainly due to the nonlinear dependencies of the measurement signal on pressure and temperature. These costs exceed the chip price many times over. The expenditure for calibration over the entire application range can amount to up to 30% of the manufacturing costs.
With an optimized layout of the measuring bridge using the longitudinal effect, a new sensor was optimized and realized with the following parameters:
Minimum temperature coefficient of the zero point
Differential pressure sensor with the integrated option to determine the absolute pressure
Minimum influence of mechanical stresses, caused by mounting, on the measurement signal
Minimum pressure and temperature hysteresis
Only longitudinally loaded measuring resistors were used for the sensor's measuring bridge, with two in the positive mechanical voltage region and the other two in the negative voltage region. High mechanical stresses in the center of the bending plate can lead to the desired longitudinal effect being compensated for to a large extent by the transverse effect.
In the optimized version, measurement resistors made of <110> p-silicon are used. If these are oriented in the <110> direction, only the longitudinal effect is activated. Thus the sensitivity is increased. All measuring resistors behave exactly identically and thus minimize the temperature dependence of the output signal (offset). In addition, the linearity of the temperature dependence of the measuring span is increased and the sensitivity of the measuring signal to the mounting voltage is reduced.
These properties are achieved with an anodic bonded back plate made of borosilicate glass.
This optimization reduces the temperature coefficient of the zero point as well as the span. This reduces the calibration effort, potential error sources and costs.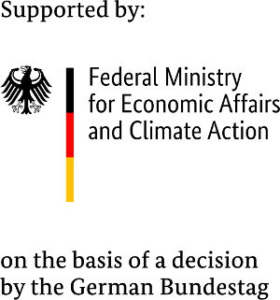 The research and development work in the project "Pressure sensor made of <110> silicon with increased linearity" (DS <110>) was funded by the German Federal Ministry of Economic Affairs and Climate Action.
Funding code: 49MF1890023