26. July 2023
Both in research and in industrial applications, the temperature range below -196°C is becoming increasingly interesting. Nitrogen, for example, becomes liquid below this temperature and can thus be transported and stored easily and compactly over long distances. Hydrogen, as the energy carrier of the future, is stored and transportable in liquid form at temperatures below -254°C.
Several options are available to measure these temperatures. One option is to use sensors based on semiconductor technologies. Another option is to qualify the platinum resistance thermometers (e.g. PT1000) currently used in industry for this range as well by suitable modifications. Up to now, the corresponding DIN standard EN 60751:2009, has a validity range down to -200°C, which also corresponds to the use of liquid nitrogen. Although platinum resistance thermometers corrode little and are considered reliable, temperature fluctuations can lead to mechanical stresses in the sensor and, in the case of permanent continuous measurements, to inaccurate readings.
The resistance thermometers commonly used to date exhibit this hysteresis at very low temperatures, which can be remedied by a suitable choice of material combinations and sensor geometry. In this new project of the CiS Research Institute, both the further development of industrially manufactured resistance thermometers in cooperation with UST Umweltsensortechnik GmbH and several layout variants based on semiconductor technologies of the CiS Research Institute are pursued.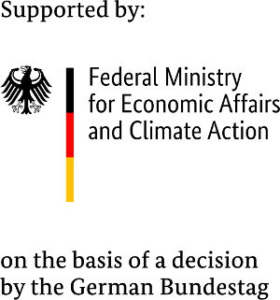 The research and development work described was funded by the German Federal Ministry of Economic Affairs and Climate Action (BMWK) in the "Cryo-Resistance" research project.
Funding code: 49MV220180