19. July 2023
The new project "Hivos" at the CiS Research Institute addresses a cost reduction in the hybrid integration of optical microsystems. The market increasingly demands microsystems that combine different mechanical, optical, fluidic and electronic components on a common carrier structure. In order to realize such combinations quickly and flexibly, hybrid assembled systems offer a major advantage over fully integrated – and technologically usually very demanding and costly – monolithic implementations.
The "Hivos" project follows the industry's request and aims at higher automation by deposition and patterning of adhesive coatings at wafer level and the associated improved assembly accuracy. Innovative materials and processes are also expected to increase value creation at the wafer/benefit level. High-precision joining of optical components is critical in the ongoing miniaturization of components and contributes to cost reduction in manufacturing.
The technology linkage will be demonstrated using the example of a leveling sensor and a fiber sensor.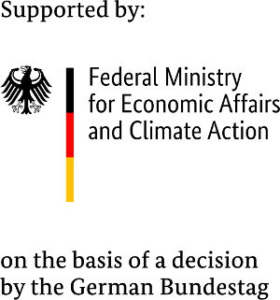 The research and development work described was funded by the German Federal Ministry of Economic Affairs and Climate Action (BMWK) in the research project "Hybrid integrated optical sensors based on pre-structured adhesive layers (Hivos)".
Funding code: 49MV220228