4. May 2023
Next week, the SENSOR+TEST in Nuremberg will be one of the most important trade fairs to present current development results as well as to maintain and establish new contacts to customers and partners. The CiS Research Institute is represented with its own booth in hall 1, booth 501 as well as three scientific contributions at the accompanying conference SMSI 2023 – Sensor and Measurement Science International. In addition, we will use the new recruiting offer of the Job Lounge to get to know specifically interested applicants during two slots.
From May 9 to 11, 2023, we will showcase our latest research results in the field of silicon-based sensor technology at booth 501 in hall 1. The trade show highlight will be setups from the "GalGIS – Galvanically Separated Incremental Sensor" project.
Galvanic isolation in photodiode arrays
Numerous applications in safety-relevant areas such as aerospace, rail transport and medical technology require electrical isolation of sensor signals from other system elements. In some cases, the so-called galvanic isolation requires voltage strengths of over 1500 V (DC / AC) without current flow between the channels. At the same time, however, some sensor concepts are based on the acquisition and comparison of several sensor channels, which must be positioned with high precision relative to each other. For example, optical position, rotation angle and speed sensors – so-called encoders – often work with several photodetectors arranged in a defined lateral offset. Only then can the absolute position and the direction of position changes be unambiguously determined without calibration. In miniaturized sensors, the permissible position tolerance of the individual channels to each other is often in the range of a few micrometers, which cannot be achieved with hybrid assembly solutions, or only with considerable effort. However, classic photodiode arrays, which combine the measuring channels monolithically on a silicon chip and align them precisely to each other in the sub-micrometer range thanks to the highly accurate structuring possibilities of semiconductor technologies, do not meet the requirements for galvanic isolation.
A newly developed photodiode technology for such applications can now remedy this. The technology, developed as part of the BMWK-funded "GalGIS" project, is based on the use of silicon-on-insulator (SOI) output wafers, in which the active silicon layer is separated from the supporting wafer by an insulating silicon oxide layer. Through a suitable combination of deep patterning, optimized designs and back-end processes, the required electrical isolation of individual photodiodes can be realized even in very small spaces and with distances well below 1 mm. Furthermore, it is even possible to integrate the LED light source, which is often required for the application, directly into the chip as a hybrid component. The suitability of the developed technology for applications in encoders with simultaneous galvanic isolation of the individual channels has already been demonstrated on the basis of initial demonstrators. This now provides the technological basis for application- and customer-specific sensor developments.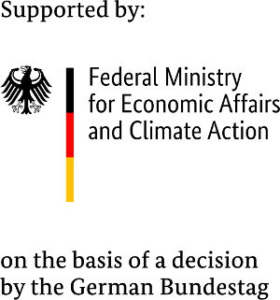 The research and development work described was funded by the German Federal Ministry of Economic Affairs and Climate Action (BMWK) in the research project "Galvanically Separated Incremental Sensor" (GalGIS).
Funding code: 49VF123456
Further results are shown from the following projects, among others:
High-precision, piezoresistive angular rate sensors for autonomous offline navigation
Another innovation is a high-precision, piezoresistive angular rate sensor for autonomous offline navigation to determine the exact position of moving objects in 3-dimensional space. This piezoresistive MEMS sensor has a wide range of applications – in automotive engineering, offline navigation, airbag sensors, stabilization of video cameras, 3-D mouse and position sensors for navigation devices are just a few of the applications that have come to the forefront of developments. In the field of navigation and guidance systems, the highest requirements have to be met, which have been implemented in the Gyros project. First development results are presented.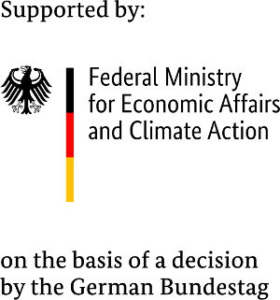 The research and development work described was funded by the German Federal Ministry of Economic Affairs and Climate Action (BMWK) in the research project "High-precision piezoresistive angular rate sensor for autonomous offline navigation" (Gyros).
Funding code: 49MF190084
UV detectors with integrated amplification
The detection of blue and ultraviolet (UV) light is of interest in numerous applications. In particular, very low-light effects, such as fluorescence analysis of medical or biological samples, are challenging because the spectral sensitivity of established silicon pn or pin photodiodes is relatively low in this range. An established technology for very small light signals are so-called avalanche photo diodes (APD), in which an internal multiplication – i.e. an amplification – of the free charges generated by light is achieved by several, in some cases very highly doped zones in the silicon with high operating voltages of up to about 200 V. The APDs are used for the analysis of blue light. Until now, however, this technique has not been optimally suited for blue and UV light, since such light is associated with very shallow penetration depths into the silicon at which the amplification effects of APD are hardly effective, if at all.
This is where the newly developed technology for blue- and violet-sensitive APD (BVAPD) comes in. Particularly shallow doping processes have been developed for this spectral range, where light penetrates the silicon only a few micrometers or even only a few 100 nm deep. The amplifying zones within the APD thus shift to regions closer to the surface of the silicon detector, significantly increasing its sensitivity. This effect is illustrated by the results of the first demonstrators: in the blue spectral region, an amplification of the output signals by a factor of more than 100 could be achieved. Spectral amplification also shows that this technology achieves the desired high sensitivity for wavelengths from 400 nm and below.
The technologies and demonstrators developed within a funded project (BVAPD, 49MF200098, InnoKom) are now available for the development and fabrication of application and customer specific detectors.
Job lounges
Within two time windows, the AMA Association for Sensor Technology offers for the first time a job lounge for interested students of the relevant courses of study, participants of the SMSI Conference taking place at the same time as well as representatives of the industry, the opportunity to apply for jobs or internships in the field of sensor, measurement and testing technology. Representatives of the CiS Research Institute will be available for interested applicants at a small booth with information about job and internship opportunities in the scientific environment.
More info: www.sensor-test.de/de/besucher/aktionsprogramm/karriere-als-ingenieur/job-lounge/
SMSI 2023 – Sensor and Measurement Science International
At the accompanying conference SMSI 2023 – Sensor and Measurement Science International, the CiS Research Institute will be represented with three scientific contributions. Dr. Thomas Frank, head of the MEMS department, will present two posters on "Setting up a pressure sensor with flush membrane and without oil filling" and "A MEMS micromachined low cost microheater platform for applications in thermal sensors".
Another poster on "Optimization of Micro-Hotplates for better Performance as infrared Emitters" will be presented by Dr. Andreas Winzer, MOEMS department head.
More info: www.ama-science.org/ama-conferences/smsi2023/smsi-2023-poster-sessions/