28. October 2013
Reflective sensors of the RSP series (Photos: Dennis Mitrenga, CiS)
The measurement of vital parameters in the field of health and sports has been common practice for many years. New, mobile and above all usable solutions in everyday life – driven by increasing health awareness – are possible through the use of technologies from microsystems engineering.
The development of patient-friendly sensor solutions close to the body for prevention, medical diagnostics and therapy are the focus of current R&D projects at the CiS Research Institute in Erfurt.
Besides reliability, continuous measurement (24/7), the development of new measurement sites on the human body together with new packages (integration into commodities, clothing, etc.) pose great challenges to product development. In addition, there are different application scenarios, such as medicine (as accurate measurement data as possible) or life science (as robust as possible). Of course, these different requirements are reflected in the configuration of the sensor technology (wavelength, measurement distance/geometry, …).
In the project MS-LATEIN, funded by the BMWI, scientists and engineers are working on the development of a multispectral sensory microsystem for the determination of wavelength-dependent lateral intensity distributions for reflective pulse oximetry and photoplethysmography. With the achieved results, the newly acquired knowledge and the tested technologies, the aim is to support the industry in the development of new vital parameter sensors. Target parameters are the measurement of heart rate, heart rate variability, oxygen saturation, respiration rate, perfusion and vascular elasticity.
The monolithic sensors from the RSP series developed in the MS-LATEIN project consist of 13 arc-shaped photodiode segments and can be freely equipped with up to 4 different LEDs. Using these microsystems, companies can derive optimized sensor designs – the results can also be used to evaluate and validate existing simulation models.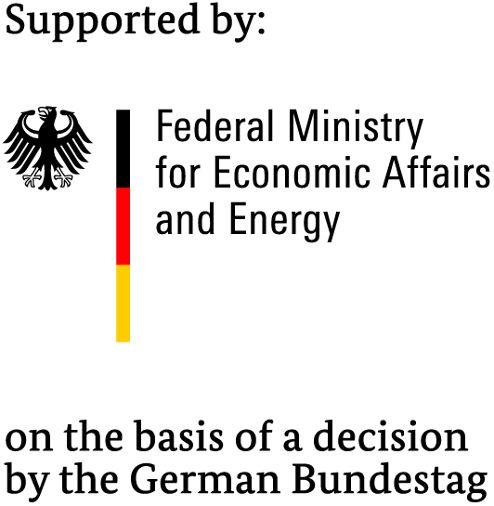 The work in the funding project "MS-LATEIN" was supported by the BMWI under the funding code VF110010.
Visit us at COMPAMED 2013 in hall 8a, booth H23.1